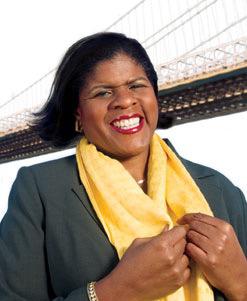 Ruth C. Browne is a nationally recognized visionary, steward for social innovation, and innovator in the field of urban health and education. She has expertise in cross-sectoral leadership and consensus-building for the public good. She believes passionately in the potential for community stakeholders to solve seemingly intractable human service challenges.
Ruth received the 2013 Lewis and Jack Rudin New York Prize for Medicine and Health and the 2014 JWT Differenter Innovator of Change Award. She is the recipient of two Fulbright Awards; under the second she developed and implemented an internship program focused on social determinants of health at the University of the West Indies. She serves on the Board of the Center for Healthcare Strategies and is active member of the New York State Minority Health Council.
Ruth is a resident of Brooklyn, New York. She earned a Bachelor's Degree from Princeton University, a Master of Public Health and Master of Public Policy from the University of Michigan, and a Doctor of Science from Harvard University School of Public Health.
Producing Measurable differences within Non-Profits
Developing and fostering stable organizations whose culture is collaborative and overall structure drives fiscal accountability, and institutional impact. Ensure delivery of high quality programs and services while managing for current and future growth. Cultivate a strong and transparent working relationship with the Board of Directors (BOD) and ensure open communication for measurement of financial, programmatic, and impact performance. Deliver highly developed networking portfolio. Translate complex problems into programmatic solutions and share results. Oversight for just under $200 million in budgets. MPH. MPP. Doctor of Science.
Fundraising and resource development in support of organization's mission.
Directing pioneering initiatives with national, scalable impact, securing funding, and leading high-performing teams.
Enhancing organization's brand by being active and visible in the community and by working closely with other professional, civic, and private organizations.
Serving as appointed representative to statewide, national, and international bodies on health and educational equity and nonprofit governance and management issues.
Setting appropriate organizational priorities.
Areas of Expertise
Leadership Global Development Patient & Community Engagement
Fundraising Strategic & Business Planning Leadership Training & Development
Alliances & Partnerships Marketing & Business Development Social Innovation
Communication Forecasting, Finance & Budgeting Gender Equity
Fulbright NEXUS Scholar Ruth Browne Sees Research Project Come to Fruition in Trinidad and Tobago